CANNAREGIO
A Foodelicious Walk
Italy sure is famous for its rich food culture and Venetians are indeed passionate about their traditional recipes and habits. Several are the spots were to eat&drink and there's plenty of choice for every taste and liking. One way to enjoy the local specialties is going for a Bacaro tour.
A so called Bacaro is a typical Venetian bar or restaurant offering a selection of cicchetti at the counter. Cicchetti being little bite size appetizers much like Spanish tapas are. Ingredients vary from fish to vegetables. It's tradition to go from a place to another and have this little cicchetti matched with a glass of wine or a spritz.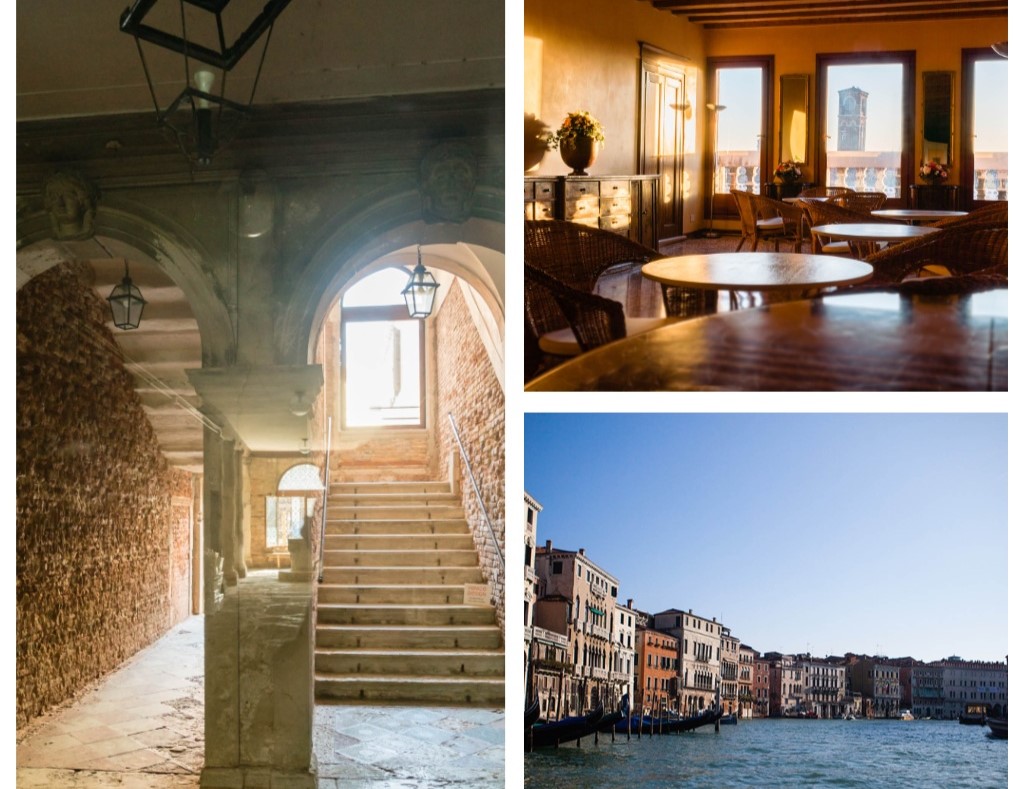 Bacaro Tour in Cannaregio
To make sure you really immerse yourselves in the experience of it, we prepared a little trip in the Canareggio area, for you to get a glance on this big universe of flavors.
You got your first stop at Ai Promessi Sposi, one minute from our gate.
What you can't miss out in the wide selection of their counter is their meatballs: three small ones on a stick, perfectly deep friend, crunchy on the outside and fluffy on the inside.
From there, you need to go a little further on before stopping again and search for the long and charming Fondamenta Della Misericordia.
You can now take a rest at the first place you'll encounter, Vino Vero. They do the cicchetti in the canapè version: slice of bread fully covered with different delicacies. The selection of organic wines is fairly big for a place that small, let the staff help you find the perfect glass for your taste.

An orange gem resting on a blue glass plate:
it's Venice seen from above
Henry James
For an Entertaining Aperitif
If you're passionate abut beers as much as we are, we highly recommend you do a little detour from this beautiful fondamenta and turn at the bridge in front of Vino Vero: in no time you'll be at Il Santo Bevitore Pub.
This place is one of the most unique in town: it doesn't serve any wine at all but on the other hand, it has a huge selection of craft beers. Twenty one droughts and plenty of gins all for you to discover, always including a right amount of Italian tidbits. With your drink you will find some food to go with: from cicchetti to sandwiches to the typical mozzarella in carrozza.
From Il Santo Bevitore Pub, you can now proceed along the Strada Nova in the direction of the railway station. Make a turn to the left when you find Rio Morto. Right after the bridge at the end of this calle you'll find again our Fondamenta della Misericordia.

Go to the right and search both for Birreria Zanon and Al Timon. First place is perfect for beers and cocktails, second place is very good for wines. Food wise, Birreria Zanon is famous for its huge black breaded sandwiches stuffed with all sort of exquisiteness while at Al Timon you'll find a bigger selection than most of other places in town.
A lot of people are already stuffed after this Bacaro tour. If that's not your case there's a near by place which is the perfect restaurant to fix yourself a proper dinner: Ostaria Da Rioba.
Da Rioba has been run by the same family in the last 30 years, it's small and cozy and has the perfect ambiance for a romantic meal. During the summer, you can sit outside along the canal in a characteristic atmosphere. In the generous offer of their menu, you'll find some of the classic Venetian dishes along with some original ones.
Da Rioba is the perfect balance between location and quality, between the tradition and some refreshing surprises.

Locanda Ai Santi Apostoli
Your Boutique Hotel in Venice
Your Grand Canal Experience
SPECIAL OFFERS
FOR A TAILOR MADE STAY
2 days trip
Valid for our Family Suite

Booking 2 nights with us, you'll be welcomed with a bottle of Prosecco and the classic cicchetti, all served in the salon facing the Grand Canal.

Don't miss out on the Venetian aperitif and don't miss out on our view: be here to enjoy it in the most exclusive salon on town
3 days trip
Valid for our Comfort Double Room

Booking 3 nights with us, you'll be given a 10% discount code for a future reservation.
If you don't plan to come back soon, give it to someone else and he'll become our friend too.

At Locanda Ai Santi Apostoli, guests coming back or recommending us are the ones we treasure
Plus 3 days trip
Valid for our Superior Double Room with Grand Canal View

Booking more than 3 nights with us you'll be served a Venetian dinner in our salon:

Baccalà Mantecato&Octopus Salad
Risi&Bisi with Toasted King Prawns
Chocolate and Caramel Semifreddo
Water* Bottle of Prosecco * Bread * Coffee * Limoncello